How Long Painted Cabinets Last
Painting and refinishing kitchen cabinets is one of the most popular do-it-yourself projects. Painting your kitchen is an excellent option for homeowners who require a quick makeover but do not want to undertake a full gut renovation.
If you take good care of your newly painted kitchen cabinets and have them professionally painted, you can expect them to last between 8 and 10 years. Although new cabinets will last much longer, they will also cost you several thousand dollars more, which may not be necessary for certain circumstances. If you choose to refinish or paint your cabinets rather than replace them, you may be able to save money on other aspects of your makeover.
This will allow you to free up more funds in your budget. This home renovation option is ideal if you are the type of homeowner who enjoys making significant changes to their property every ten years.
Painting cabinets provides consumers with a sturdy and long-lasting product at a cost that is roughly half that of purchasing new cabinets. If you don't need new cabinets but want a quick makeover, consider painting them if you already have them. You might want to sell your home in eight to ten years, or you might want to replace your cabinets again.
What Affects How Long Painted Cabinets Last?
Although properly painted cabinets will last 8-10 years, some factors may affect the longevity, requiring them to be repainted only 3-4 years after the initial painting. How and with what equipment, such as cabinet paint, was used can have a significant impact on how long your kitchen cabinets will last.
Hiring a professional painter who follows a tried and true method, uses high-quality equipment and takes great care to protect your property is the most certain way to get excellent results from having your house painted. Having said that, even if you hire the best painter and have them do the best job painting your cabinets, natural factors may cause your cabinets to deteriorate over time.
Furthermore, cabinets in high-traffic areas of your home will typically begin to show signs of wear and tear much sooner than cabinets in low-traffic areas.
How to Ensure that Painted Kitchen Cabinets Last
If you are planning on updating your old cabinets with fresh paint, there are a few things to keep in mind to extend the durability of your painted cabinets. To increase make sure your painted cabinets last, we recommend the following:
Experience: This is not a project for someone who has never received training or who is unsure of what they are doing. There is little to no room for error when it comes to painting cabinets – so consider calling a professional to help!
Paint Spraying: Although there are many distinct finishing methods and styles, the vast majority of cabinets are sprayed to achieve the quickest, smoothest, and most professional makeover possible.
Preparing Your Cabinets: For any paint job, you should always prepare the surface correctly before painting. This includes cleaning and small repairs so that you have an even and clean surface to paint.
High-Quality Paint: We recommend using high-quality paint. Premium will provide you with better-looking cabinets, superior color retention, and longer-lasting cabinet paint over time.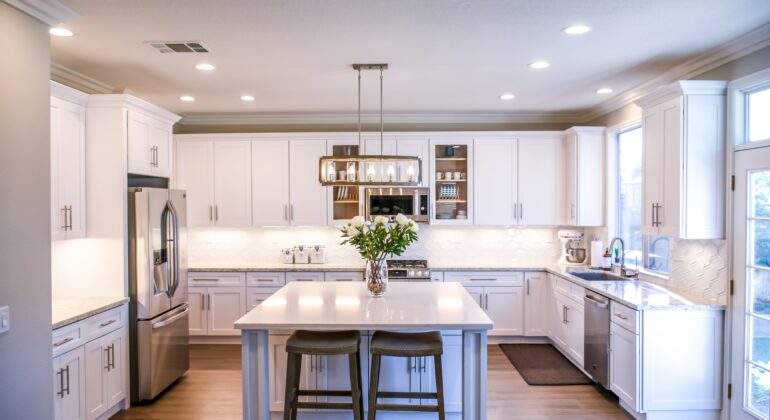 Is Painting Your Kitchen Cabinets Worth It?
If you're wondering whether or not painting your kitchen cabinets is worth the effort, the answer is nearly always yes! This is why:
1. Cost Savings: Painting your existing kitchen cabinets is a more cost-effective option compared to replacing your cabinets entirely. You can paint both the doors and the counters – which can save you thousands!
2. Revitalize the Atmosphere of Your Kitchen: A fresh coat of paint can transform any room and make it more inviting. Painting your cabinets could be a quick and easy way to give your entire kitchen a facelift, especially if they are worn and out of date.
3. Color Choice & Personalization: Cabinet painting is an excellent way to personalize your kitchen because there are plenty of colors to choose from. Whether you are looking for something that is bright and pops or you are looking for something more neutral or moody, there is a wide spectrum of paint colors to pick.
4. Flexibility: If you end up not liking the color you chose or you are looking for something a bit different, you can easily repaint your cabinets again.
5. Improve Your Home's Value: Making improvements to your kitchen is a simple way to increase the value of your home. If you plan to sell your home in the future, house painting can help you update the look of your kitchen and possibly make it more appealing to potential buyers.
Drawbacks of Painting Kitchen Cabinets
Although painting your kitchen cabinets is a great way to modernize and refresh the look of your kitchen, you should be aware of the potential drawbacks of this project.
One of the primary disadvantages of painting kitchen cabinets is that it is a tedious and time-consuming process. Without prior experience, not only will achieving a professional finish be difficult, but the procedure itself may be rather messy.
Before you begin, make certain that you are completely prepared and that you have all of the necessary supplies and equipment.
If the paint comes into contact with an excessive amount of grease or moisture, it may be damaged. Furthermore, normal wear and tear may cause the paint to peel over time. These are both potential issues that could arise.
It is critical to remember that the original cabinet doors and drawers' durability may be compromised if they are not thick enough to be painted or were not designed to be painted in the first place. If you want a higher-quality finish, you may need to invest in new cabinet and drawer hardware as part of the painting process.
Are Painted Kitchen Cabinets Durable?
If you want to give your kitchen a one-of-a-kind and fashionable appearance, painted cabinets are a fantastic option to consider. Oak cabinets that have a painted surface are often equally as long-lasting as those with a natural wood grain finish or a lightly sanded finish. Maintaining and appropriately cleaning your painted cabinets is essential if you want them to retain their beauty and last for a long time.
The cabinet can be kept in good condition for a long time if it is dusted on a regular basis with a gentle cleaning solution and a cotton towel. Protect the cabinet from any direct dampness or liquid spills, as these may cause damage to the paint surface.
If you give your laminate cabinets the attention they require and keep them clean on a regular basis, they should retain their structural integrity for many years.
Why Choose a Professional Painting Company?
Professional painters have the necessary education, experience, and knowledge to produce high-quality results. They understand how to properly prepare surfaces for painting, select the appropriate paint and tools for the job, and apply the paint to achieve a professional finish.
The Ohio Painting Company specializes in residential and commercial painting, as well as exterior painting and interior painting. We are a top-rated painting service provider in Central Ohio that uses premium, high-quality paint for all our painting jobs.
We guarantee quality on every project we handle. Book an estimate online to request our highly-rated kitchen painting services!