If you've just bought an older home or are planning on moving into one, you may be considering what house painting ideas and schemes would suit it best.
Older homes can have challenges when it comes to updating them to meet today's standards of living. They generally have smaller spaces, less natural light, are subjected to peeling paint due to age, and can also have peculiar architectural features that make house painting challenging.
However, these same attributes that present a challenge also present an opportunity. An old house has its own charm and heritage feel that may otherwise be lost if updated with more modern finishes and fixtures.
Suppose your home is older than 50 years. In that case, there are some things you need to consider before starting the new painting project – from the type of paint to the correct surface preparation – so as not to waste time and money on any unforeseen circumstances.
This blog post will cover tips on painting an old house exterior so you can tackle this project with confidence and get great results.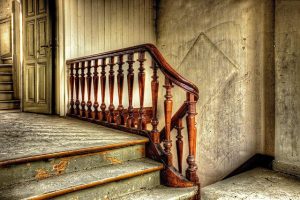 Decide on the Finish You Want
You must decide whether to paint the interior of your home with a flat or glossy finish. Flat paint is ideal if you have children or pets and want to protect your paint from scratching. They are also simple to clean and keep in good condition.
However, flat paints aren't as bright or vibrant in color and can sometimes seem a little dated. Flat paints are also a better choice if your home is older and has less natural light because they have a thicker consistency and can block more light.
Flat paints are frequently less expensive and easier to find in the desired color, whereas glossy paints are frequently more expensive and more difficult to find. But if you want to enhance the character of your home and make it feel more spacious, you can use lighter colors with a glossy finish.
The glossier the finish, the brighter and bolder the color will be.
Assess the Condition of Your Home
If your home is over 50 years old, it may have some surface issues that need to be addressed before you paint.
If you're doing an exterior paint job, you should check for drainage problems and make any necessary repairs to ensure water doesn't pool and cause rot to your home's foundation. You should also examine the roof for missing or damaged shingles and replace them as necessary.
If you're painting the interior, you'll want to check whether the existing paint was done using lead paint. You'll also want to keep an eye out for loose paint, rotting bare wood, and other damaged surfaces.
For wood, you can use a wood conditioner to seal the surface and protect it from the chemicals in the paint. If you have deteriorated wood, you may want to consider replacing it before painting the walls.
Choose Your Paint
If you've decided to go with a flat finish, you may want to consider semi-gloss or high-gloss paint.
Full-gloss paint has a finish that is high-luster and very shiny. It is highly reflective and shows almost every imperfection on its surface. Semi-gloss paint is more forgiving, with a finish that is still fairly reflective but not as much as full-gloss.
These finishes are best for walls that get lots of foot traffic or are subjected to lots of wear and tear. This is because the sheen in the paint will hold dirt and scuff marks more readily than a matte finish.
If you're painting the interior, you can go with paint that has a low-VOC (Volatile Organic Compounds) count since it is safer and has less of an odor. Low-VOC paints are also great for folks who suffer from allergies and asthma.
A great way to reduce the number of VOCs in your home is to hire a professional painter to do the job. Professionals take the guesswork out of paint selection, surface preparation, and clean-up to do a quality paint job, so you don't have to worry about those aspects of the project.
Select Your Paint Color(s)
You may want to consider using colors found in the architecture of your home and incorporating them into your painting scheme. This will help to enhance the character of your home. For color inspiration, you can also look to other elements of your home's exterior, like patios and walkways.
If you're painting the exterior of your home and want to add color, you'll want to use water-based paint without oil-based primers, such as latex paint, since it can stand up better to the elements. Yes, oil paint has a better sheen but doesn't provide as long-lasting a paint job as water paint layers.
Plan and Budget for Supplies and Repairs
If you're planning to repaint the exterior of your home, you may want to consider hiring a professional painting contractor.
A professional will have the tools and know-how required to assess your home's exterior properly and provide advice, repairs, and a paint color recommendation. You'll also want to consider the cost of supplies like brushes, rollers, and drop cloths and repairs like sealing the wood siding using wood filler.
The Bottom Line
When painting an older home, you have the opportunity to keep the home's unique heritage feel while still updating it to meet modern living standards. With the tips outlined in this post, you can decide on the best paint finish for your home; determine the condition of your home, choose your paint; and select the best paint color for your home.